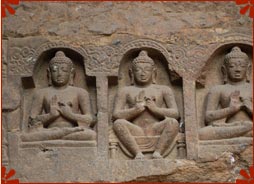 The location of the Kanheri caves is so green with wooded hills and valleys, and it is at a distance of only 42 km from Mumbai. The architectures of this cave are regarded to be one of the finest in India. According to historians, these caves scooped out between 200 BC and 600 AD. The whole complex has 109 caves cut manually on the flank of a hill; each fitted with a stone plinth that evidently served as a bed.
There is a congregation hall supported by the huge stone pillars that has the Dagoba, a kind of Buddhist shrine. Kanheri is regarded as one of the world's great religious houses. There are a 20 feet colossal Buddha, an 11-headed Bodisattva (Buddhist saint) and a Nagaraja, an ancient pre-Buddhist serpent king who guarded the most famous Buddhist Chaitya hall1 in the caves.
The caves have an elaborate drainage system to channel excess water during the monsoon to the neighbouring Vihar, Tulsi and Powai lakes, which in turn are responsible for much of Bombay's water supply.
As Kanheri is just only 42 km from Mumbai, so tourists can take suburban trains from Churchgate.