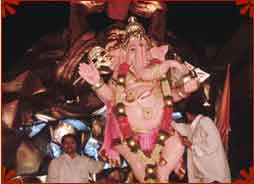 Ganesh Chaturthi is the biggest festival in Mumbai. It is celebrated with great grandeur for 11 days in the months of October or November. Hindu God Ganesh is worshipped in this festival.
Navratri is also celebrated with great fun and enthusiasm in Mumbai. Dandiya Raas is performed with sticks on the tunes of the thundering drums. Traditionally clad people of all ages take part in the dance with greatest fervour. These days, the traditional instruments like the dhol and sehnai are taken over by remix songs.
Diwali
is also celebrated with colourful and dazzling light all over the city like any other city in India. This Hindu festival is celebrated on the moonless night of November every year. The best area to visit in this festival is Marine Drive that shines bright in the light of the innumerable firecrackers. The earthen lamps are floated on the waters at the Banganaga tank in a traditional way.
Mumbai International Film Festival is organized once in every two years. Different film producers and directors throng to Mumbai for the festival. Mumbaites and visitors from outside especially the film buffs can enjoy good time during this festival. Short, documentary and animation films are screened at the Nehru Auditorium in the month of February.
Elephanta Festival is organized at Elephanta islands, which is so near to Mumbai. It is organised in the month of February. Renowned dancers and musicians perform outside the caves of Elephanta under the starry sky in front of the selected and appreciative audience. Special launch services and catering arrangements are also provided for visitors.