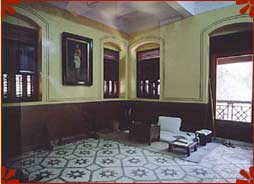 Mani Bhavan Mahatma Gandhi Museum is located on Laburnam Road, Mumbai in Maharashtra. Its location is near the August Kranti Maidan, where 'Quit India' movement was launched in 1942. Gandhian literature, photographic exhibits, framed letters and 3-D tableaux of key events in Gandhi's life are displayed here.
The home of the diamond merchant and the Indian National Congress supporter Revashankar Jhaveri has been turned into a museum. It is the house where Mahatma Gandhi stayed during his frequent visits to Mumbai between 1917 and 1934.
Gandhi's room and belongings including his books, his trademark 'Charkha' (spinning wheel) and 'Charpoy' (rope bed) are displayed here. It is place, where Gandhi first learned how to use the spinning wheel. There is also a library of Gandhian literature and books read by Gandhi, which includes lots of Tolstoy and Shakespeare and a well-thumbed copy of 'Les Miserables'.
Visiting Hours:
9.30 am - 6.00 pm
Closed on:
National holidays
Photography:
Allowed