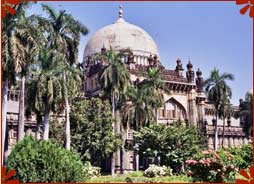 Prince of Wales Museum is in Mumbai. The museum was named after Prince George (later George V) who visited India in 1905 and laid the foundation stone of the building. But it was opened in 1923 by Lady Lloyd, the wife of Sir George Lloyd, then governor.
Prince of Wales Museum has been designed in the Indo-Saracenic style with yellow and blue stones. It has been planned so simple that there is a central hall from which the staircase leads to the two upper floors with galleries branching out on the right and left.
Different sections like natural history section, Indian miniature painting, decorative art and Tibetan and Nepali art, European painting, armoury and textile galleries are splitting off left and right in the two floors. Superb works from 19th century Pahari School of Painting, Mughal paintings, Nepalese & Tibetan Art, Deccan School of Paintings are worth to be mentioned. This museum is a treasure trove of various arts. There are lots of things to be seen.
Mumbai is well connected by air, rail and road.
Visiting Hours:
10.15 am to 6.00 pm
Closed On:
Mondays