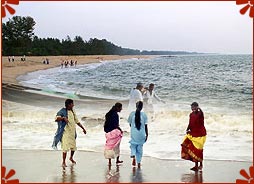 Bassein is in the peaceful location, which is 77 km away from Mumbai. It is closely similar with the India's sultry beach state of Goa. But here, crowd is a bit less and those who wish to enjoy peaceful environment must visit Basssein.
This is quite of a historic place. One can see ruined forts that were built by the Portuguese inside dense forests of brushwood and palm grooves. Locals serve delicious Portuguese cuisines as well.
One can also see Buddhist relics at Nalasopara, which is 10 km from Bassein. Vajreshwari Temple, Akloli hot springs, Sadguru Nityanand Maharaj Samadhi Mandir at Ganeshpuri, Bhimeshwar Temple and other ashrams are also worth to visit. There are quite a few churches of Portuguese times as well in Bassein.
The nearest airport is in Mumbai, while the nearest railway station is at Bassein Road. It is well connected by road as well.