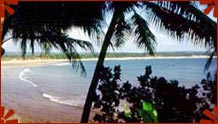 Vengurla is famous for its long stretch of iridescent sand, lined up with thick cashew, coconut, jackfruit and mango groves. Vengurla rocks or Burnt Islands is so near to this beach. Malvan has now become a part of the mainland. This area is thickly covered with palm trees. This place is famous for the temples of Shri Devi Sateri Temple and Rameshwar Temple as well.
Malvan was once an important center for trade, which was twice destroyed by the attacks between 1664-1812. There are two old forts at nearby Sindhudurg and Padmagad in the township of Malvan. It is believed that an underground tunnel links the two forts.
Vengurala is 514 km away from Mumbai and 200 km from Ratnagiri. Kolhapur is the nearest railhead, while tourists can also access this place through Ratnagiri, which is well connected by road. Tourists can stay in government resorts near the beach.