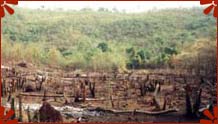 Bhamragarh Wildlife Sanctuary has many types of wild animals like leopard, jungle fowl, wild boar and sloth bear, barking deer, blue bull, peacock and flying squirrel. The entire area is covered with the moist deciduous mix forests. Gond-Madia tribes are the people who are residing in and around the Bhamragarh Wildlife Sanctuary.
They are still leading their primitive life, mainly depending on the forest for their day-to-day needs. The local dialect is Madia and Gondi. Hemalkasa Lok Biradari Project run by Dr Prakash Amte is the other place of interest around the sanctuary.
February to May is the best time to visit. Nagpur is the closest airport (370 km), while nearest railway station is Ballarpur (197 km). Nearest main bus stations are Aheri (102 km), Ballarpur and Chandrapur (212 kms).