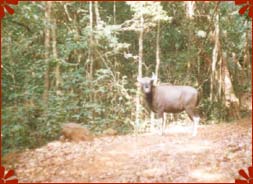 Dajipur is situated on the border of Kolhapur and Sindhudurg districts. Rugged mountains and dense forests surround this hilly area. This quiet little place is completely cut-off from human blare. Dajipur is home to bison, wild deer, chital, gawa and many more spectacular wild animals and birds.
Situating at 1200 metres above the sea level, it is an exciting and beautiful holiday getaway. An excursion in the vicinity to the Gagangiri Maharaj's Math makes a pleasant outing for the tourists. This scenic resort near the backwaters of the Radhanagari Dam is highly recommended for wildlife lovers and nature enthusiasts.
Nearest airport is at Belgaum, nearest railhead is at Kolhapur. It is 490 km away from Mumabi, while 80 km from Kolhapur. But it is only 30 km from Radhanagari.