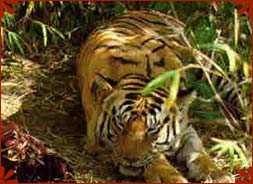 Tadoba National Park is a large park covered with lush, green forestland. It is situated at a distance of 45 km from Chandrapur. Tigers, leopards, gaurs, nilgais, sambars and chitals can be seen at night in this park. There is also a lake at the park.
Tiger, leopard, leopard cat, Indian wild dog, sloth bear, hyena, wild boar, spotted deer, barking deer, blue bull, four-horned antelope, Indian pangolin and porcupine are the wild animals of this park. February to May is the best time to visit.
Around 90,000 people visit the park annually. Nearest airport is at Nagpur (140 km), while nearest railway station is at Chandrapur (45 km). Nearest main bus stand is Chandrapur and Chimur (32 km).