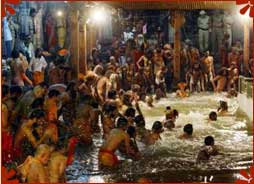 Kumbh Mela is the most important Hindu spiritual gathering in India that comes once every three years, rotating between four major Hindu pilgrim centers of India - Allahabad, Haridwar, Ujjain and Nasik. The Maha (Grand) Kumbh is held every 12th year in each of the following four locations. 2007 Maha Kumbh Mela is scheduled to be held at Nashik in Maharastra.
In Maharashtra, the festival is held in Trimbakeshwar, Nashik. The Nashik Kumbh Mela is generally considered to be the most sacred of all the festivals. Kumb Mela in Nashik, like other fairs is also a mammoth affair attending by nearly three and a half million pilgrims. Thousands of sadhus and holy men and millions of pilgrims take dip in the holy Ramkund and Kushavarta reservoirs.
August 14th and 25th and September 8th and 20th are regarded to be the peak of the festival days. Residential arrangement for Sadhus is made in Tapobhumi called Tapovan on left bank of Godavari river.
Nashik being one of the major cities of Maharashtra, the city is well connected by train, road and air with different parts of India. Accommodation is available at the hotels in Nashik.