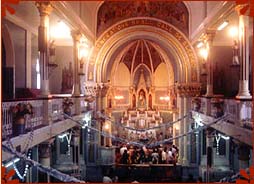 Mount Mary's Festival is celebrated for one week during September at Mount Mary Church, Bandra in the suburbs of Mumbai, Maharashtra. This fair, which is also popularly known as the Bandra fair is celebrated on the occasion of Mother Mary's birthday.
Lakhs of people of different religions and communities flock to this place during the festival. Marathi speaking communities of Maharashtra refer Mother Mary as Math Mauli. It is a belief of the local people that Mount Mary fulfils their genuine wishes if prayers are made earnestly and faithfully.
It is magnificent to take a look of the Arabian Sea from the site of the church. Mumbai is well connected by road, train and air with any part of India. Accommodations are available at the hotels Bandra as well.