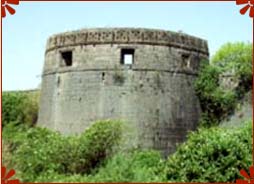 Ahmadnagar Fort, which was built in 1490 AD, is located 1 km away east of Ahmadnagar city in Maharashtra. This 500-year old fort is circular in shape and has 18m high wall reinforced with 22 bastions. To keep enemy at bay, a deep trench was dug that surrounded the fort.
First Prime Minister of free India, Pandit Nehru wrote 'Discovery of India' when he was imprisoned in this fort here in 1944. Leaders rooms are still alive inside the fort, where leaders of freedom struggle were imprisoned from 1942-45. Although, the Indian army occupies the fort, entry into the fort is allowed by signing at the gate. But photography is not allowed inside the fort.
Ahmadnagar is in the central Maharashtra, which is close to most of the major cities in Maharashtra. Pune is 120 km away from here, while Mumbai is at a distance of 300 km. Its good location makes Ahmadnagar easy to reach both by road and by train. Good hotels are available in Ahmadnagar.