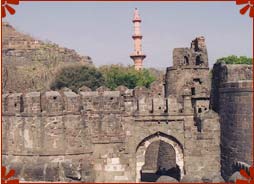 Daulatabad is located at a distance of 13 km from Aurangabad. This fort, which was once known as Devagiri, is a magnificent 12th century fortress standing atop a hill. Daulatabad, which is constructed with excellent architecture, is one of the few invincible forts in Maharashtra.
Mohammed Bin Tughluq, the sultan of Delhi gave the name Daulatabad 'The city of fortune'. Series of trick defense and secret escapes routes are the famous features of this fort. Jami Masjid, Bharatmata Mandir, the Chand Minar, Elephant Tank and 'Chini Mahal' or Chinese Palace are the important monuments inside the fort. Daulatabad Fort, which initially had stronghold of Yadav, passed through the hands of several dynasties in Deccan.
Daulatabad is included on the MTDC tour of Ellora from Aurangabad. The hourly shuttle buses between Aurangabad can also reach the place and the Ellora caves. Hotels are available in Aurangabad.