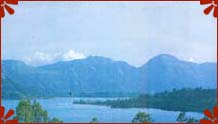 Bhandardara is located at a distance of 70 km from Nashik. It is a small and peaceful area. This hill station is popular for fun loving and picnic lovers. Radha Falls, a deep valley, a clean and large Arthur Lake, a historical Ratangadh Fort, an ancient temple - Amritheshwar Temple, a peaceful Agasti Rishi Ashram, Wilson Dam also known as Bhandardara Dam, and Viewpoints are the important destinations at Bhandarda. It also has a trekking destination - Mount Kalusubai.
The largest earthen dam in the country and one of the oldest dams in Asia, Wilson Dam or Bhandardara Dam is at Bhandardara. The height of the dam is nearly 150 m. The overflowing water makes the Umbrella Falls, which is a picturesque sight during the monsoon season.
There is also a lake with serene beauty called Arthur Lake. One can also visit the site from where the lake originates at Pravara River. Streamlets from this lake flow down to 45m heights at Randha Falls. Not only a heart catching scenic spot, these falls also serves as a hydropower generation. Agasti Rishi Ashram is on the bank of the Pravara River, which attracts huge crowds. One can also visit Amriteshwar Temple at Bhandardara.
Bhandardara is most suited to visit after the monsoon season as its beauty emerges only after the rains. Nearest Airport is Nashik at (93 km), nearest railway station is Igatpuri at (45 km).