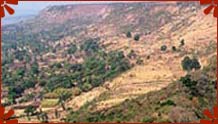 Located at an altitude of 3177 feet and 18 km away from Kolhapur, Panhala is a scenic hill station and quite popular among tourists. The place houses famous Panhala fort which has great acquaintance with Maratha Empire. As is known about Maratha king Shivaji, who never spent too many days at a place, this was the only place where he had spent more than one and half years of his life.
Panhala was the capital city of Maratha state until 1782 but later on after Maratha –British war it came to British Empire. The largest fort of the Deccan region is built on outlaying of Sahyadri range of mountains. Situated 400 meters above the plane Panhala fort is considered the safest forte in the region for its location. About its historical developments and chronology, the fort was built between 1178 and 1209 AD. Initially it was the headquarter for Shilahara ruler Bhoja II. Later on Yadav kings occupied it. It got full appraisal during the time of Bahamani kingdom of Bidar.
In early sixteenth century Panhala had become the part of Bijapur kingdom. Bijapur kings helped to make the fort more concrete and they got its gates and other parts rebuilt. Great Maratha guerrilla fighter Shivaji unsuccessfully raided this fort in the year 1659. Finally in the year 1673 he got success over invading the fort. Later on Mughal emperor Aurangzeb occupied the fort. Maratha tried to recapture but could not do too much.
The fort is historical evidence of the event when the Mughal Emperor received the English Ambassador Sir William Norris. British took over the fort after a local rebellion in 1844. The fortification of the fort is amazing. Long sections by steep escarpments protect the walls of the fort. Parapet slit holes make insiders know about the danger outside –an excellent defense. The remaining sections have 5-9 m high ramparts, strengthened by round bastions.