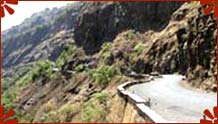 Malshejghat is in Pune, Maharashtra. This hill station is known for its special attraction for trekkers, hikers, adventurers, and nature lovers. Malshejghat is at an altitude of 700m above the sea level. Malshejghat is a beautiful hill station with wooded countryside and colourful bird and animal, rugged mountains, historic forts, high-plateau forest houses, resorts and sanctuaries and venerated rivers all around.
Comes under the patio of the Western Ghats, Malshejghat's Flamingo Hill Resort and sanctuary draws large number of trekkers and mini-adventure tourists. Misty hills, placid monsoon lakes and cool, fragrant forests surround this hill resort. Green forest environment and the placid monsoon lakes, which is the home for orange and white flamingos, are the main attractions for Malshejghat.
Shivenri Fort - the birthplace of King Shivaji, Buddhist caves (of 3rd century), Harishchandraghadh, Ozar and Lenyadri, Ganesh Temples, Shiva Temple, Bhima River are in and around Malshejghat.
Nearest airport is Mumbai (154 km), while nearest railway station is at Kalyan. It is 154 km away from, 164 km from Pune. One can stay at Flamingo Hill Resort and government resorts at Malshejghat