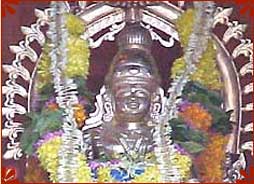 Mumbai's Ayappa Temple is regarded to be the only Ayappa Temple outside Kerala state. The original name of this temple is Mini Sabarimala Shree Ayyappa Temple. It is situated atop a hillock surrounded by hills and valleys within the area of NCH Colony. A tiny stream originating from the vicinity adds the sanctity and beauty of the temple environment.
Ayappa Temple is a unique temple resembling the Holy Shrine of Shree Dharma Shastha (Ayyappa) at Sabarimala, Kerala, crowning the Western Ghats. This temple attracts thousands of devotees throughout the year.
The major festival is 'Mandala Makara Vilakku' festival (mid November to mid January), which starts with the Mudhradhanam for the devotees who undertake pilgrimage to Sabarimala. Festivals apart from the usual Hindu festivals which are celebrated here are 'Pankuni Uttiram'- the birthday of Shree Ayyappa, 'Prathista Dinam', 'Vishu' (New Year)- April 14th, Onam, Ganesh Chaturthi, Vijaya Dashami, and Deepawali.