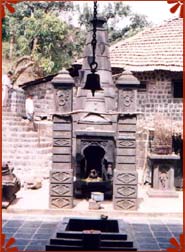 Bahubali Hill Temples are located 27 km south of Kolhapur, Maharashtra on the Bahubali Hills. Huge devotees thronged the temple to worship the 28-feet tall marble statue of Bahubali and visit the temples of the 24 Tirthankaras or saints. These hills are popularly known as 'Kumbhojgiri'. A Celibacy Resort was established in 1935 and named after the sage Bahubali who mediated here about 300 years before.
This temple looks very beautiful and splendid. The scene of the forest and the village farms looks full of delight and beauty. People visiting these temples have to climb about 400 steps. A fair is held here on the 15th day of the bright half of the month of Kartak, on the 15th day of the bright half of the month Chaitra and on the 10th of day the dark half of the month of Magasar
Visitors can take a train from the nearest railway station at Hathkalangad, about 8 km away, on Kolhapur - Miraj railway line. This temple is at a distance of 31 km from Kolhapur. There are steps for climbing the hill. Bus service and private vehicles are available. They go to the foot of the hill. The Swetambar Jain Trust provides accommodation for the devotees.