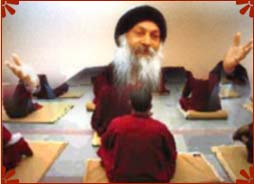 Osho Ashram, also known as the Osho Communal Centre is located at the greenery area of 17 Koregoan Park of Pune, Maharashtra. The Ashram offers a variety of expensive courses on meditation.
Osho Ashram attracts a number of devotees each year including a large number of them from the western countries since early 70s even though Osho expired in 1990.
Facilities of swimming, sauna, tennis, massages, beauty parlour, basketball courts and Bistros are available at the Ashram. There is a rock garden of 5 hectares called Osho Park in the side of the Ashram. The nearby Nulla Park, also known as Osho Teerth is a beautifully maintained garden, transformed from a swamp. The garden opens for public from 6 to 9 in the morning and 7 to 10 in the evening.
Nearest airport and railhead is at Pune. The city is well connected by road with all the places in Maharashtra and other parts of the country. Accommodation is available at the hotels in Pune.