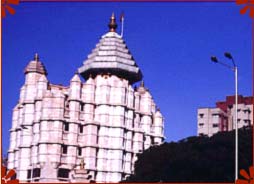 Siddhivinayak Temple is in Mumbai, Maharashtra. Siddhivinayak Lord Ganapati/Ganesh is worshipped in the temple. The temple dates back to 18th Century. Vinayak is considered to be one of the Ashta Vinayak shrines of Maharashtra, celebrating eight instances of legends related to Ganesha.
The present form of the temple was re-constructed five years ago. The temple has a Kalash, which is a pointed dome of 12 feet high Gabhara (sanctum sanctorum) weighing 1500 kg and plated in gold. So, it facilitates the 'Darshan' of Sri Siddhivinayak from either the area surrounding the Gabhara or the stage (Sabha Mandap) constructed to conduct pujas and festivities.
The idol of Ganapati is also called Chaturbhuj as it has four arms. A lotus is held in the upper right hand symbolises auspicious piety and a small axe in the upper left, a holy rosary of beads (Japmala) are held in the lower right and a bowl full of Modaks (a delicacy which is a perennial favorite with Sri Siddhivinayak) in the lower left. On auspicious Tuesdays, the serpentine queue of worshippers is over 2 km long.
Mumbai is well connected by air, rail and road with all the places in the state as well as the country. Tourists can take the city buses from any point of the city and reach this temple.