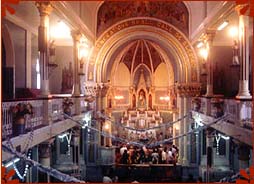 Mount Mary Church is one of the most important church in Mumbai. It is famous for its exquisite interiors. Mount Mary Church is situated on a quiet hillock in suburban Bandra. As the name suggests, it is dedicated to Mary.
There are two statues of Mary at the Church, one inside the church and one outside. A festival called Bandra Fair of the Virgin Mother culminates in a weeklong fair in September. The fair is more like a small carnival, which attracts a huge crowd.
Mumbai is well connected by air, rail and road with all the important places within and beyond the state. The nearest station is Bandra. Mumbai offers tourist a wide range of accommodation.