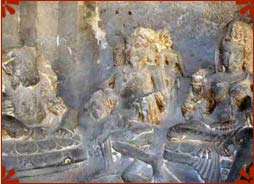 It is believed that the construction of the Kailash Temple was started in the mid 8th century under the direction of King Krishna I (757-775) of the Rashtrakuta dynasty. This temple is world's largest monolithic structure carved from one piece of rock and the most extensive rock-cut projects ever undertaken.
Kailash Temple is situated near the village of Ellora, 30 km from Aurangabad. The temple is considered as one of the most astonishing buildings in the history of architecture. This is one of the largest 34 excavations at Ellora, which took almost a century. Kailash Temple is dedicated to Lord Shiva. The idol measures 109 feet wide by 164 feet long.
Kailash Temple has number of images of deities, animals, and other mythical creatures from the puranas in a manner that leaves one in rapturous delight. Entire panels were carved showing scenes from the Mahabharata and the Ramayana.
Every December, MTDC organises the Ellora festival of music and dance at the Kailash Temple. Ellora is well connected by all means of transport. Accommodation is available at the hotels in Aurangabad.