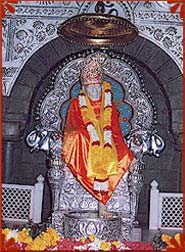 Shirdi, a small village in Kopargam Taluk, in Ahmadnagar, Maharastra is regarded to be an important pilgrimage place in India as sage Sai Baba lived here till his death. It is about 285 km, which is 6 hours drive from Mumbai.
After his death, Sai Baba's fame has spread far and wide. Sai Baba believed and respected all religions. Samadhi Temple was started during the lifetime of Sai Baba, with a view to having a temple of Sri Krishna. But later, Sai Baba himself decided to live there. So, after Sai Baba attained Nirvana (eternal peace), His mortal remains were buried at the place. The articles and valuables, which were used by the Baba, are exhibited in a room here.
Dwarkamayee Masjid is the place where Baba lived for almost for 60 years. There is also a place called Chavadi where Sai Baba used to visit every alternate night. Gurusthan is the place where Sai Baba used to sit under a neem (Margo) tree. It is said that the leaves of this tree lost their bitterness with to the grace of Sai Baba. Samadhis of Baba's devotees like Abdul Baba, Nanavalli, Bhau Maharaj and Tatya are also there in Shirdi. There are also interesting and holy places related to Sai Baba.
Nearest important railway station is at Kopergaon, trains of major cities are available. The Shirdi Sai Sansthan provides boarding and lodging facilities but since large numbers of devotees throng the place, especially on Thursdays, one can find it difficult to get accommodation. But there are good hotels, which cater to the needs of all classes of devotees. Locals also let rooms on rent over here.
Hotels in Shirdi
:
Sun-n-Sand Shirdi
-
Goradia's Hotel