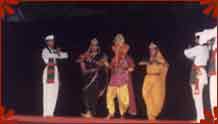 Lord Ganesh is the most respected God in Maharashtra, so as the Ganesh Chaturthi, most important festival. The festival falls on the 4th day of the bright fortnight of Bhadrapada (August - September). People buy Ganesh images to keep in their houses as a divine guest for five to ten days. The image is then taken out ceremoniously and immerse to the river, sea or well. It is called Visarjan. Keeping the idol after this day is considered inauspicious.
Puja can be simply performed with family members within the household or by a priest. Modak is special cuisine for Ganesh Chaturthi celebrations. Aarti is performed morning and evening (dusk, or at the hour when artificial lamps are lighted in the house) a long as the Ganesh idol is at home.
Huge Ganesh idols are worshipped at nicely decorated pandals, also known as Dekhavas for 8 to 10 days. These Dekhavas are organized by the Mandals, worked collectively for the entire locality. Various Mandals shouting the slogans of Ganpati Bapa Morya take out huge processions during the first day and the day of immersion of the idols throughout the city. People from the city and nearby towns, districts throng to witness the Ganesh festival celebrations. Huge money in terms of crores is spent on decorations of the pandals.