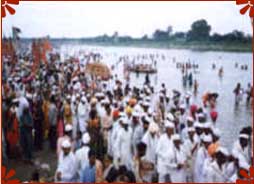 Palki festival showcases the distinctive feature of the Maharashtrian culture. This is a 1000-year-old tradition, which has been following by the warkaris (people who follow the wari, a fundamental ritual).
People perform collective singing, dancing, chanting (Dnyanba-Tukaram in what are called as Dindis or organised group of warkaris) to the holy town of Pandharpur in Hindu months of Ashadh (June-July) and Karthik (November-December).
Palkhi Festival, which lasts for 22 days, starts in the month of Jyeshth (June). Every year on the eleventh day of the first half of the month of Ashadh, the Palkhi reaches Pandharpur. Every saint, right from Sant Jyaneshwar to Sant Tukaram was following the wari tradition.
It was in the year 1685 that Tukaram's youngest son, Narayan Baba wished to bring some change in the dindi-wari tradition by introducing the Palkhi, which is a sign of social respect.
In coarse of time, this tradition is becoming popular day by day. Nearly 1.5 lakh devotees proceed along with the Sant Tukaram Palkhi from Dehu village, while a total of 2.25 lakh devotees march along with the Sant Jnyaneshwar Palkhi.